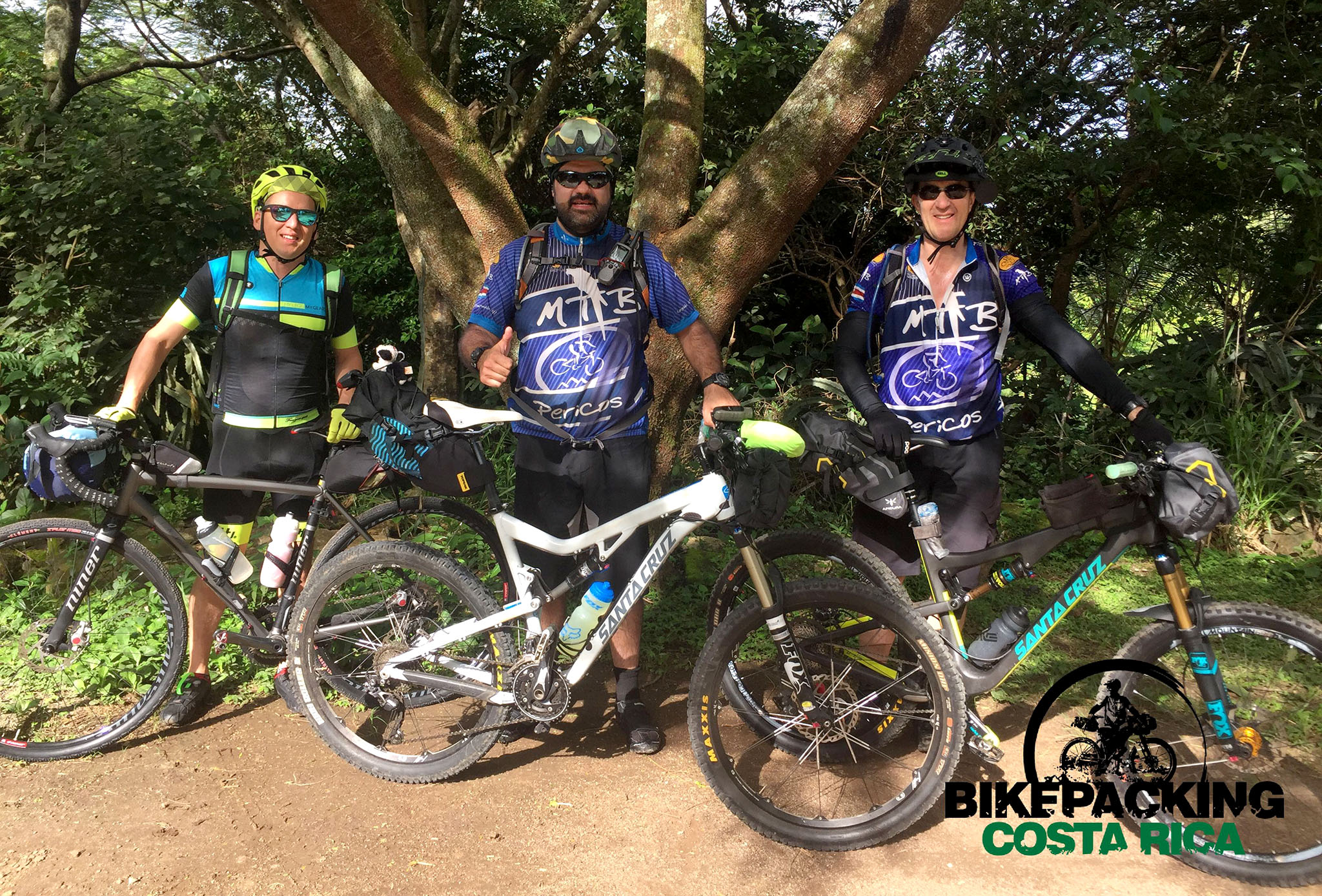 Bikepacking Costa Rica
Ride Report From: Luis Acuna
Photos By: Fabian from Ride Green Adventures Costa Rica
Before I begin with this story and how we ended up doing the first bikepacking trip in Costa Rica, let me give you some background information. Costa Rica is a small country as you probably know, located in Central America. When I say small, I mean small… from the Nicaragua border to the Panama border it is 520km (323miles) and from the Atlantic Coast to the Pacific Coast it can be a half day drive. It is a small country, but has 6% of the biodiversity of the planet, meaning, we live in the jungle! Wherever you look, there will always be green forest and wildlife.
Now, knowing this you may ask 'what does this have to do with bikepacking?', and even more with gravel? I own a Gravel Grinder, which is not easy since the Gravel community here is small. It is growing with two bikes already sold down here in Costa Rica, and one being actively used that I know of….mine. I always like challenges and getting out of my comfort zone, but that is another story. This is about two things that have never been done here and involve the first, a Gravel Grinder and the first bike packing in Costa Rica (at least organized for Costa Ricans in Costa Rica).
Now, what do you need for a bikepacking trip and to be sure the Gravel Grinder does well? As you may guess we have a lot of gravel roads, but also if you are heading into the jungle, the gravel will end and the jungle will begin…. really soon. So planning the roads was very necessary. That is why I decided to sign up for this adventure with someone that would know the way. I decided to contact my friend Fabian from Pericos Mountain Bike Adventures here in Costa Rica. They have the knowledge and the equipment. If you think only a GPS is needed, you are probably right, but only if you are biking on the main roads is that true; but we are about to go to some places that access to any type of signal can be difficult.
The trip was not easy, 140km (87 miles) around an active volcano, the Rincon de la Vieja. The road was 10% tarmac, 60% gravel, 20% rocks and rivers, 10% mud. These percentages can vary, as the terrain can change rapidly… the gravel can turn into mud and a mudslide can turn the road into rocks.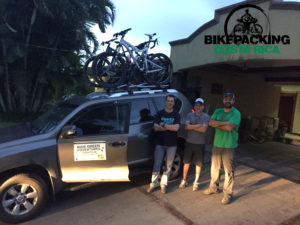 Everything was set! Many people had signed up for the adventure, but had backed out. Being a pioneer is not for everybody. I had backpacked through South East Asia, Europe and some countries in the Americas, so I was kind of relieved to be able to carry my stuff on my bike and not my shoulders. That gave me the security I needed to be sure of what I was doing and also having some experienced guides that had planned and knew what was needed for long days on bikes. So there you have it, the first ever bikepacking trip was on the way with three people, Fabian (the guide), Federico (pioneer) and me (on my RLT9 Gravel Bike). I got my Wanderlust gear ready, some chocolates and power gels, shorts, sandals, mosquito and any animal repellent you can get, flashlight…the necessities.
Friday came and we met outside San José (the capital) to drive four hours where we would spend the first night at the starting point. We stayed in a little hotel called Rinconcito Lodge outside a town call Guayabo. We arrived at 9 p.m. The place was nice, the weather was great and there was no internet service. Things were looking good so far, time to go to sleep.
Morning came, with the sound of birds everywhere and other animals I didn't recognize. It doesn't matter how long you have lived here, the jungle is a crazy place. Breakfast was ready at 5:30 a.m with the usual: fruit and pinto (rice and beans) with eggs, cheese, and coffee. We packed, got ready and hit the road before 8am.
The first kilometers were mostly tarmac passing through the geothermic power plant project. Almost 99% of Costa Rica's energy comes from renewable resources like the geothermic plant. We passed the blue lagoons and the steam pipes to our first stop, a little "pupleria" (small supermarket) to refuel before hitting the gravel. The heat was a major obstacle in the next stretch. Between the hills, the extra weight and the 35 degree celsius (95F) temps, we knew we had to stay hydrated. Around noon we stopped at a nice hotel to recover. We wanted to call it a day. We were only half the distance and it wasn't looking promising. But as pioneers and so called adventurers we had to continue.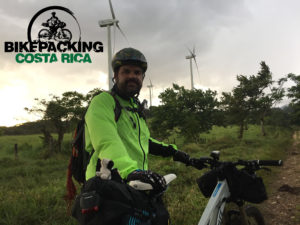 We set off again reaching the top of the hill thinking, 'maybe the roads and the weather will not be as harsh?', but now that we had reached a different altitude the weather changed. Costa Rica is infamous for its microclimates. The weather was not hot and sunny, but rainy, windy, and cold. We passed through a wind farm and then on to a narrow path in the middle of the jungle. According to the locals, we needed to be careful of a puma on the path. Not sure if I told my friends about the puma… if not then 'sorry guys I didn't want to scare anybody', but we made it anyway! We left the danger behind us. It was about 4pm and cold. I know, you can't imagine Costa Rica as being cold, but believe me that it can get cold with the extreme humidity and wet terrain and the sun almost down.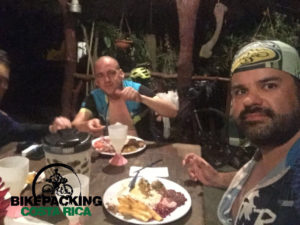 Night fell on us and we were on gravel again. The gravel road was rough and full of sharp rocks. My bike light bounced around like a disco ball. I didn't have any suspension, so I felt every rock. After 10+ hours of riding we are getting close to point B. The only sounds were dogs barking in the distance, crickets and the complete darkness around us. At 8 p.m (12 hours later) on a foggy night we arrived at Colonia Gavilán de Upala, a little town with maybe three street lights and one B&B. As soon as we got to the B&B, there was a big plate of food waiting for us; chicken, mashed potatoes, beans, rice, plantains and you name it! One of the best meals I have had in years…..or maybe I was just starving. The rooms at the B&B were simple with wooden floors and basic beds. I woke up in the middle of the night to the sound of something crawling on the floor. I grabbed my light and saw two giant spiders. I had to make a decision on what to do with them, so I did what I thought was best I in the moment… turned the light off and went back to sleep in complete darkness.
The next morning, breakfast as usual, more coffee but two things have changed: the weather (it is downpouring rain) and we were one man less. Federico had called it a day already and decided to take a ride back to point A. Now it's just Fabian (the guide) and me; and just like that it begins one of the most beautiful rides I had ever done.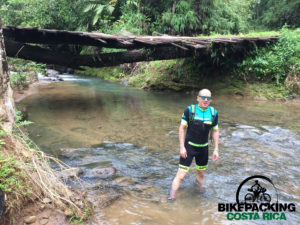 The first 12km was rocks and the typical humid rain forest. We crossed so many rivers I lost count. The weather maintained its extremes. Sometimes it would rain, other times full downpours and then sunny until another intense rain, similar to a wall of water would hit. It is hard to describe this unless you have been in a rain forest. After the first 12km we hit gravel again and started crossing the mountains. We had to climb 400m (1230 feet) on less than 4km (1.8 miles) with the sun on our backs and in a very, very humid climate. Those are the moments you ask yourself "Why did I do this?", but the answer was just around the corner. Now, we were on a flat surface and hundreds of butterflies were around us, every color, size and shape you could imagine. Continuing on I heard a rustling sound in the jungle. I stopped the bike because I know it's something big. In the jungle, who knows what large animal could come at me. Jaguar? Puma? I don't know what to do… and suddenly an animal comes running out… a tapir. I tried to reach for my camera, but I guess I am not an expert on wildlife photography and my movement was let's say "not professional". It ran off, but not before shaking all the vegetation in its path, causing blue morpho butterflies to come out of the bushes.
We got to a sign where we needed to decide between: two kilometers on a single track, or take seven kilometers of more gravel. At this point two kilometers sounded better…. but that changed quickly. After the first 500 meters of mud and eating it twice, things got worse. This was a nightmare, a cliff basically of mud and rocks. I can't think of a better way to finish the adventure than carrying my bike and bikepacking gear for over a kilometer of deep mud (and I am not exaggerating). We meet at the bottom of the cliff to wash our bikes in a river.
We arrived at point C at 1 p.m. with scratches, full of mud, sweat, smelling probably worse than the tapier I had seen before, but with a smile on our faces. We had done it! We had finished the first local bikepacking trip in Costa Rica and I did it on a Gravel Grinder. Now, I understand bikepacking is hard. It is a different way if cycling where you really get a sense of adventure and I can't wait for the next trip….which by the way we are already planning for this October.
Thanks to Pericos MTB Adventures, to Fabian and Federico for being part of this. Thanks to Wanderlust for providing me with the gear necessary and to all the people that we met on this almost 20 hours adventure ride around Rincon de la Vieja and the first ever bikepacking trip in Costa Rica.
Cheers and Pura Vida People.
Luis Acuna